Arizona is one of the states that allow police to set up DUI checkpoints.
It is important for you to be aware of what your rights are if you are stopped at a checkpoint. If the police perform a search of your car and find something that is illegal, knowing your rights could result in your case being thrown out of court.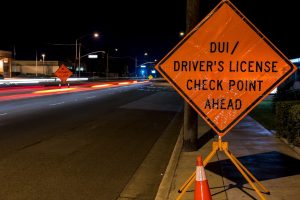 It should be noted that the police do not have the unlimited right to search your vehicle. In fact, there are only two reasons that would legally allow them to conduct a search:
If you give your explicit consent. In other words, if you tell them, "Yes, you can search the car." However, you can legally decline by invoking your fourth amendment rights and explicitly telling the officers no.
If the police find probable cause. If they can see that there are empty liquor bottles or beer cans, or if they smell marijuana or see drug paraphernalia, this constitutes probable cause for a search of your vehicle. If a drug-sniffing dog approaches your vehicle and barks, this also constitutes probable cause.
Under normal circumstances, the police would need a warrant to search your vehicle, but this requirement is waived if they believe they have probable cause.
What are you required to do at a checkpoint?
If the officer asks, you are required to give your name and provide them with your license, vehicle registration, and proof of insurance. No matter what happens at a DUI checkpoint, the most important thing to remember is that you must never act belligerent or hostile towards the officers.
For instance, if you refuse to allow them to search your case and they do so anyway, let them without interference. Since you did not give them permission, anything they discover may not be admissible in court.
If an officer believes that you may be drunk, they can ask you to take a field sobriety test. This may include:
Standing on one leg
Horizontal gaze nystagmus
Walking in one straight line, then turning around
You can politely decline to perform these tests. They are challenging for some and, even if you are sober, you could still fail them. You can also refuse if the officer asks you to take a breathalyzer or give blood for a blood test but you should be aware that this could result in your being charged with a DUI and suspension of your driving privileges.
If you are arrested for a DUI, you must invoke your right to not say anything to the police until you have spoken to a lawyer. These are your rights and invoking them does not automatically mean you are guilty, contrary to what the police may make you believe.
To ensure that your rights are protected, contact an experienced DUI attorney immediately. Attorney Gary L. Rohlwing is an experienced criminal attorney who specializes in handling DUI cases. He will help you and ensure that you get the best possible outcome in your case.
Just call the Law Offices of Gary L. Rohlwing at (623) 937-1692 or visit their website.