In October 2016, the Institute for Justice filed a lawsuit in Navajo County Superior Court on behalf of an elderly couple, Terry and Ria Platt. The police pulled over their son, who was driving their car, for a window tint violation. They seized the son's cash and a small amount of marijuana. Even though Arizona law does not permit forfeiture of a car under these facts, prosecutors are ignoring the law and trying to forfeit the car. The Platts' story is just one of many where innocent people are ensnared by the Arizona Civil Asset Forfeiture Laws.
In April 2017, Governor Ducey signed a bill amending the Arizona Civil Asset Forfeiture Laws. These laws allow the State to seize real and personal property from people who haven't been charged with committing a crime.
A civil asset forfeiture proceeding may be in rem or in personam. A judicial in rem proceeding involves a judgment against the property at issue while a judicial in personam proceeding involves a judgment against a person who is asserting ownership of the property at issue.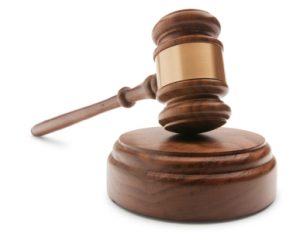 In both types of proceedings, the State must now prove that the property is subject to forfeiture (in rem) or the person's interest in the property (in personam) is subject to forfeiture by clear and convincing evidence. "Clear and convincing evidence" is a higher burden of proof than the previous standard "preponderance of evidence." The Arizona Supreme Court has defined "clear and convincing evidence" as evidence that the truth of the contention is highly probable in State v. Roque, 213 Ariz. 193 ¶ 75 (2006).
Other important amendments help claimants. According to A.R.S. § 13-4314(F), a court may now award reasonable attorney fees, expenses and damages for loss of the use of the property to any claimant who substantially prevails at the hearing.  Moreover, a court must award treble costs or damages to any claimant where the court finds that reasonable cause did not exist for the seizure or the filing of the notice of pending forfeiture, complaint, information, or indictment and that the seizing agency or attorney for the state intended to cause injury or was grossly negligent.
Whether or not your charges involve civil asset forfeiture, you need an experienced defense attorney to represent you. Attorney Gary Rohlwing has over three decades of experience. Call him today for a free consultation.